How will the EU tyre label change affect the UK?
Tyre labels are important, both from a consumer and manufacturer perspective. Brought to the table by the EU in 2012, these labels provide information on tyre safety and their impact on the environment, which is a crucial indicator of tyre quality for a consumer. For a manufacturer, they're an easy way to get this information across in a quick glance, which is often the difference between buying a tyre and leaving it on the rack.
Current tyre labels show fuel economy, wet grip and noise labels, with each having a rating, Money-savvy buyers may keep their eye on the fuel economy label, which is advised as tyres are responsible for a significant amount of the overall fuel consumption of your vehicle – as much as 20%. The wet grip label is essential for displaying safety information at a glance. An A-rated tyre in this instance will come to a stop 18 metres before an F-rated tyre during wet conditions. The noise rating displays the decibel rating, which at present, also displays whether it meets future EU regulation. Three black soundwave bars implies that the tyre does not.
What is changing?
The EU is bringing bus and truck tyres into this labelling scheme and is redesigning the labels to match its Energy Labelling initiative. This requires the upload of more than 120,000 tyres to the European Product Database, which is a large undertaking, but ultimately a better one to inform and protect consumers.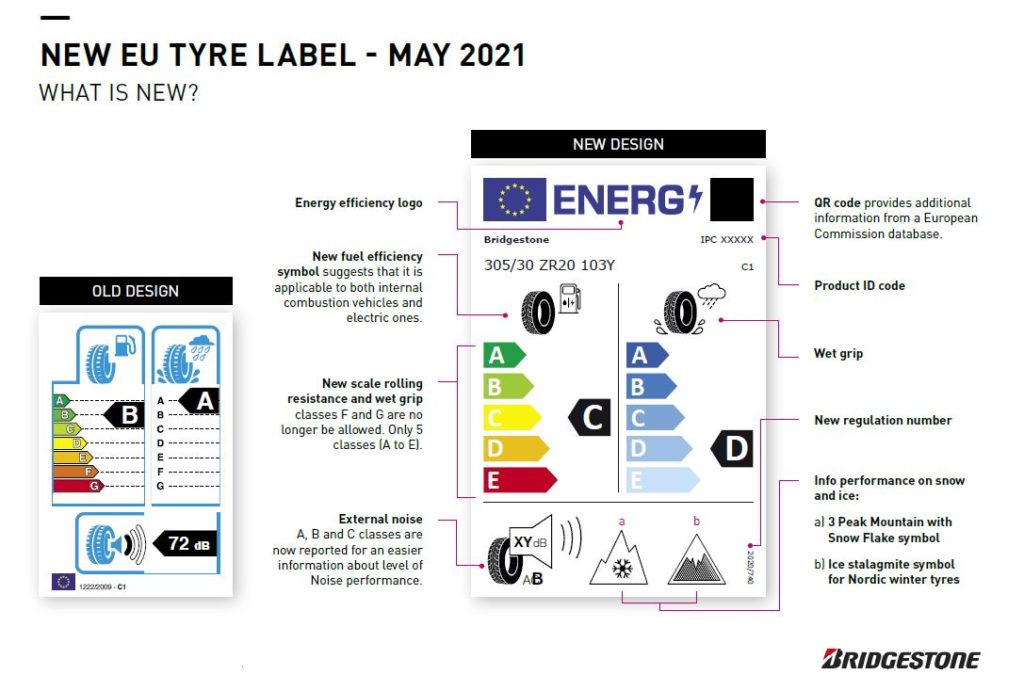 The following changes are being made to the labels to improve functionality for consumers. Highlights include:
Options next to the noise icon will be added on certain tyres. This includes an icon relating to grip in icy conditions and severe snow conditions. 
Tyres are no longer allowed in classes F-G for rolling resistance and wet grip. The new scale has 5 classes, from A-E. 
 A QR code provides information from the previously mentioned European Product Database. Providing further information on the spot for a consumer. 
Generally speaking, the industry has reacted positively to the changes. The Secretary-General of the European Tyre Manufacturers' Association (ETRMA), Fazilet Cinaralp, stated: "The European tyre industry is fully committed to the Tyre Labelling Regulation and its success," though he did raise a concern about the transition: "The industry has concerns that there might not be enough time to ensure a smooth transition to this new system amidst an already challenging environment that deals with these new requirements." (Thanks Tyrepress)
When is it happening?
With a regulation implementation date of 01/05/2021, the changes are fast approaching. There will be a transition period for the labelling system, but crucially, certain tyres will be banned from the roads in the EU from this point. It's ultimately better for all parties involved, as it improves on a labelling method that has shown its functionality in multiple countries throughout the world. There is one slightly large impending event on the horizon that impacts the UK. It begins with B and ends in rexit.
Will it affect the UK?
In response to the proposed changes to EU tyre regulations, the UK government held a consultation with a lengthy title. The "Improving new vehicle safety and environmental compliance plus passenger vehicle digital radio requirement" consultation was held on 01/06/2020, with the results released on 07/08/2020. (Really need to work on those consultation titles UK.)
We've collated the results of the consultation below:
Three new legislations are currently being discussed. These are minimum standards legislation; current tyre labelling legislation; and forthcoming tyre labelling legislation.
After 01/05/2021 low-performing car and van tyres can no longer be supplied in the UK legally. Commercial vehicle tyres have until 1 May 2023. Manufacturers have a 30-month grace period to sell-off tyres that no longer meet the rules. (This started on 01/11/2018 for car and van tyres.)
Repair and maintenance (RMI) data from the on-board diagnostics (OBD) port will be available for fast-fits and garages. This was a confirmed piece of legislation for the EU in September but had to be confirmed in the UK too due to Brexit. A statement from the Department of Transport read: "We can confirm that the definition of OBD in Article 3(49) of Regulation (EU) 2018/858 will be applied in the UK, as it is in the EU." This helps independent garages remain on a level playing field with larger organisations.
At present, the UK government has not stated whether the new labelling requirements will be adopted as they are in the EU, but have committed to removing low-performing car tyres from the market by May 2021.  It will likely be implemented in the UK, though it is a decision that is ultimately made by ministers. At etyres, we ensure that all our tyres are high-quality, meeting all required regulation. Simply enter your number plate, choose your tyre size and select a delivery option. (A full fitting service is offered at a garage near you.) You can then drive safe, which is what matters.