etyres is operating as usual during the Covid-19 Corona Virus outbreak. Customers will be kept fully updated of any changes to our service, should they arise.
Aquaplaning
Search by Registration
Don't know your tyre sizes?
We'll find them for you!
What is Aquaplaning?
When there is an excess of surface water on a road, there is always a risk of aquaplaning. This occurs when there is a build up of water between your tyres and the road surface. The loss of grip means you will lose any traction and will find yourself unable to keep control, steer, brake or accelerate your vehicle.
For many, this can be a frightening experience and can be the cause of many wet weather accidents. However, it is not just water that's to blame. Aquaplaning can be made worse by the speed a vehicle is travelling and the condition of a vehicle's tyres.
How can tyres stop aquaplaning?
As the only part of a vehicle with contact with the road surface, it's important to ensure your tyres can resist aquaplaning. Making sure your tyres are in a good condition will improve aquaplaning resistance and help to increase your safety and the safety of other drivers. Tyres in a poor condition will struggle to expel water fast enough to keep contact and a good grip on the road surface.
To efficiently expel water, your tyres need a good tread. The pattern and additional grooves disperse water from underneath the tyre, helping them to keep contact with the road. A tyre which is starting to wear will have a shallow tread and few grooves, which means there is nothing to disperse the water. Depending on your speed and the amount of surface water, this is likely to result in your vehicle aquaplaning.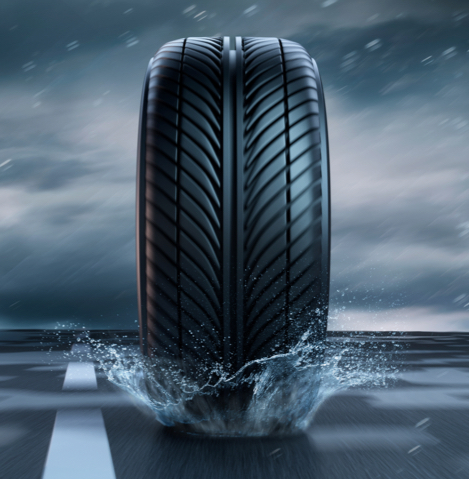 Best wet grip tyres from etyres
Choosing the right tyres is important. Some tyres perform better in wet weather than others. These tend to feature more intricate tread patterns and grooves for more effective water dispersion. Every tyre on etyres has its own wet grip rating which can help to give an idea of how effective the tyre is in wet conditions. If you're looking for all-round reliability, all-season tyres are designed to be used in most weather conditions, so generally perform well in the wet.
*Same day garage fitting is only available on specific tyres in certain locations. Please enter your postcode on the select tyre page to see if tyres are available for same day fitting.
© 2020 Electronic Tyres Online Ltd · All Rights Reserved · Company registration number 12193422. VAT number 333694585.
Electronic Tyres Online Ltd, Colewood House, Building 1, Kingfisher Court, Bowesfield, Stockton on Tees, TS18 3EX